The Clarence school board has held two budget informational sessions so far, and a third is scheduled for March 30th. (There is also a regularly scheduled school board meeting March 16th, which will be held at the Middle School on Greiner). The district has been open and transparent about the issues and challenges facing the budget process this year, and you can find all of Dr. Hicks' materials at this link.
The 2015 – 2016 Clarence school budget must be in final form by mid-April, so that it's ready for public vote by late May.  Specifically, this year, the final public hearing on the budget will be on May 11th at 7pm, and the budget vote itself will be held on May 19th.
Like every school district, Clarence relies on some amount of state aid to cover its budget, and since the global financial meltdown, Albany lawmakers have balanced the state budget on the backs of New York's schools and students. Albany's unconscionably cynical "Gap Elimination Adjustment" has short-changed Clarence to the tune of $16.3 million since 2009, and state aid for the Clarence district has fallen by 15% overall.  Albany balances its own budget by robbing the state's students of teachers and programs. Governor Cuomo then turns around and relies on standardized testing to determine which schools and teachers are "failing" or "non-performing" while refusing adequately to fund any of it.
In past years, districts had, by now, been given a close estimate of how much state aid they would receive, so that they could work on the local share of their revenue budgeting in an informed way. This year, however, is different. School districts are completely in the dark about how much state aid they might receive, and it's making budget planning one big guessing game.
Governor Cuomo has introduced an education reform plan that would add just over $1 billion in public school funding; however, this increase in state aid comes with some big strings attached, and no one knows if it'll pass – and in what form – by April 1st. We hear a lot about "on-time" budgets, as if it's a laudable cause for celebration that the state legislature manages to accomplish its one real job in any given year. But what about the right on-time budget? Cuomo has said that no school district will see an increase in state aid over last year if his conditions are not met.
Cuomo wants five things:
1. A five-year probationary period before teachers receive tenure;
2. The ability to appoint receivers to manage the lowest 5% of non-performing schools;
3. A simplified teacher dismissal hearing procedure;
4. 100 more charter school slots statewide; and
5. Changes to the teacher evaluation system that Cuomo already implemented, relying more on testing and outside evaluators.
Republicans in the State Senate, meanwhile, have proposed a $1.1 billion increase in state school aid in an effort to roll back the Gap Elimination Adjustment. It's estimated that it would take a $1.9 billion increase in state aid this year to restore state funding of schools to 2008 levels.
Cuomo is also proposing to do away with the STAR property tax exemption and replace it with a property tax relief credit that would phase in depending on the value of your home and your income – it disproportionately benefits downstate homeowners whose assessed property values are very high.
So, we have to rely on a dysfunctional Albany system and the three men in a room to negotiate an education reform and funding equation by April 1st, so that school boards across the state might be able adequately to plan their budgets for the next school year. The assault on public education – against students, teachers, and parents – has many fronts. The biggest threat, however, is treachery from within. It defies logic to simultaneously de-fund schools in order to balance the budget and demand that teachers, students, and schools are declared "failing" or "performing" based on a few standardized tests.
This simply isn't how learning should look.
So, we're dealing with a dramatic drop in state (and federal) aid in the last several years, and a budget process that is different insofar as the district has no choice but to assume that there will be no increase in state aid over last year.
In 2013, when the district proposed an emergency property tax hike of over 9%, it was overwhelmingly rejected. Many who opposed that tax hike promised that teachers, programs, classes, electives, and extracurriculars wouldn't be cut. But they were – they were the first to go. We lost many talented teachers. Class sizes increased. Programs, classes, sports, and electives were cut. Some in the community had to resort to, in effect, paying a tuition surcharge via private foundation in order to restore teams and clubs. The anti-tax people claim that they want to maintain the excellence of the school district, but they seldom, if ever, partner to help make that happen. It's window-dressing; happy propaganda. 2013 showed that the collateral damage of budget rejection is not a concern for them.
When the district was considering – and ultimately passed – a veterans' exemption, which is wholly subsidized by a tax hike assessed against non-veteran households, no one complained about or campaigned against about the extra pennies it would cost the rest of us, because it helped our veterans, who had already sacrificed so much.
The anti-tax people have a slick new blog that's peddling the same old misinformation. The central theme within the context of this year's budget seems to be that the district should be maintaining tax hikes of about 2% per year, pursuant to the Cuomo tax cap as sold. Well, had the district done that, taxes would be much higher now than they are.
Because state aid has not yet been defined, it's estimated that the tax cap this year will be about 4.78%. To put that into context, the 2013 re-vote budget was at a cap of 3.6% (not 2.2%, which is some misinformation that's being spread). Indeed, the anti-tax people are trying to re-write history and spread misinformation about lots of things, including November's capital projects vote.
For starters, capital projects cannot, by law, be included in a school district's annual operating budget. Capital projects are voted on periodically, as the district is required to conduct an audit of its physical plant from time to time, and any capital improvements must be financed separately and voted on by the community. The suggestion that "we rarely voted on capital projects" is false.
In November, Clarence voters approved the general maintenance capital projects proposition by a 3:1 margin, and the artificial turf proposition by a 2:1 margin. Turnout was higher than what we typically see even for a May budget vote. Although 2013 was an anomaly, the average turnout between 2000 – 2012 was about 1500.  In November, 1589 people voted.
The last time a capital project was put to the voters off-schedule – not at the May budget vote – turnout was only 437. We blew that number away in 2013, even with a weeklong weather delay. About that delay – the vote was scheduled for a Tuesday, but the epic November snowstorm forced the schools to be closed for the better part of the week. The vote was delayed to the next open school day, and people were informed by radio, at this site, by Twitter, Facebook, email, and the Clarence Bee. Any suggestion that this was all designed to depress turnout is not only false, but its falsity is underscored by the turnout figures. People knew. People turned out .
The anti-tax forces in town have pledged to defeat this year's proposed budget before it's even been presented. Unlike 2013, an at-cap budget needs only 50%+1 to succeed.
So, why is the tax cap projected to be 4.78% this year, as opposed to the 1.62% rate of inflation? Here's the calculation:
The big change this year is the debt service to fund the refinancing of pre-existing capital projects, the funding of past bus purchases, and the town's 30% share of the financing of 2014 capital project vote to fix the schools and fields.
Currently, taxpayers in Clarence pay $14.79/$1,000 assessed value in school taxes. Here's how the district's proposal for next year breaks down: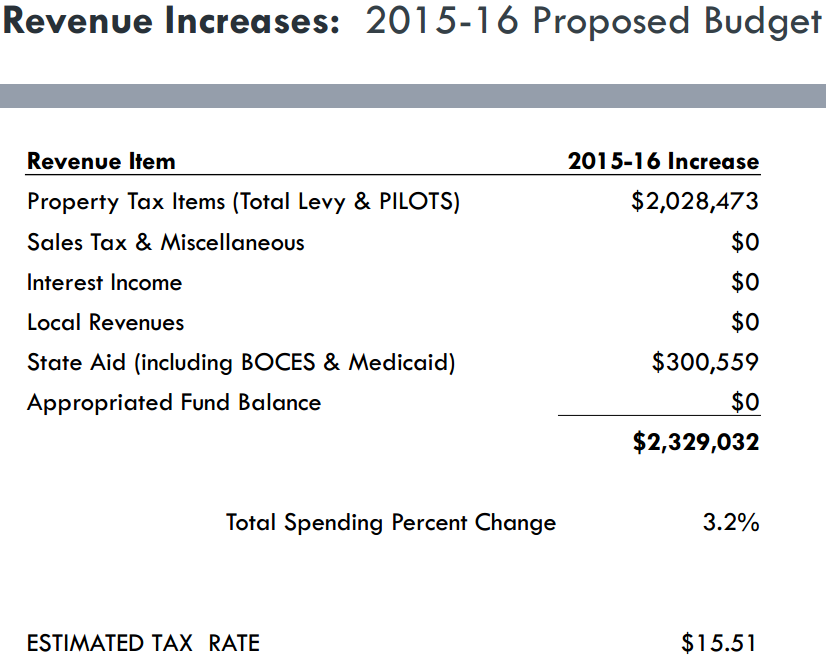 This proposal – if it passes – would increase the annual tax on a $100,000 home by $71, or about $5.90 per month. That's without counting any STAR exemption, veteran's exemption, or seniors' enhanced STAR exemption. $100 per year is not an insignificant sum, but it's what is required to maintain not only the services that students receive, but the quality of their physical plant. The district has a legal duty to finance its capital projects.
Furthermore – and this is most significant – if the district passes an at-cap budget, the state will refund to you the entire tax hike by sending you a rebate check in November. The $71 annual tax hike on a $100,000 home would be refunded via check for $71, resulting in a net increase of nil.  
The district has also proposed to implement a fleet purchase plan. Any time there's a bus proposition that passes, the purchase's local share is financed over five years. If this happens every year for five years, any new bus proposal would have zero impact on the next year's budget, because as the oldest loan is paid off, the new one simply replaces it. This helps to keep kids safe by maintaining a new, safe, efficient fleet, and it helps keep taxes and spending predictable year over year.
The anti-tax people would have you believe that 4.78% tax hikes are the "new norm" and would result in a "doubling" of your school taxes over 15 years. Past results aren't necessarily a predictor of future results, but anyone can do a search of historical school taxes and find out that this is simply little more than scaremongering.
The school opponents think that they can strong-arm the district and punish students by defeating the budget. They demand a 0% increase and pledge to not only fight the original budget proposal, but to fight any budget proposal that results in an increase in the tax levy or tax rate.  You don't have to be a historian to look back just two years to see the devastating effect that this sort of brinksmanship had on students, and you don't have to be a master at political rhetoric to discern that their promises that they want to maintain excellent schools is a propagandist's ruse.
Clarence taxpayers demand quality for their money, and a large part of your home's value is wrapped up in the quality and efficiency of the school district. Clarence's school tax rate remains among the lowest in WNY. The results we get remain among the highest and best in WNY. The cost-effectiveness of the district remains unparalleled in WNY. There is no waste to cut, no fat to trim. In fact, a prudent budget would restore funding for teachers and social workers, reduce class sizes, and restore lost electives and other programs.
But we're not asking for more. We're asking, quite literally, for the bare minimum.
This year, please speak up for your family, for your home, for your community. Don't let the schools and our students and teachers be held hostage by shortsighted half-truths, mischaracterizations, and scare tactics.
In the meantime, please help support CSEF, which helped save our sports and other extracurricular programs in 2013, and which offers supplies, programs, scholarships to students today. Tickets for CSEF's "Party with a Purpose" are available now at this link for $30, and it's for a cause that can't be beat.