First things first:
VOTE YES ON MAY 17th. 
POLLS ARE OPEN FROM 7am – 9pm at the HS Gymnasium, off Gunnville Rd. 
VOTE FOR JAMES BOGLIOLI AND JOHN FISGUS FOR SCHOOL BOARD
Your School Taxes: Fact vs. Fiction
Chances are that your school taxes have gone up since 2010. It all depends on your property, how it was assessed, etc. But since 2008, the Clarence School District's tax levy has gone up 1.7% on average, about the rate of inflation.
No one likes it, but to put it bluntly, inflation is a thing that exists.
But if you go back 10 – 13 years, which you can do via this link, owners of many properties will find that the actual dollar amount paid in school taxes this year isn't significantly higher than a decade ago.
So, when you see people cut the data off at 2010, ask yourself why.
Enrollment: Fact vs. Fiction
It's always tough to project out several years in order to plan, but there have been charts put out there by some individuals in our community that are downright misleading.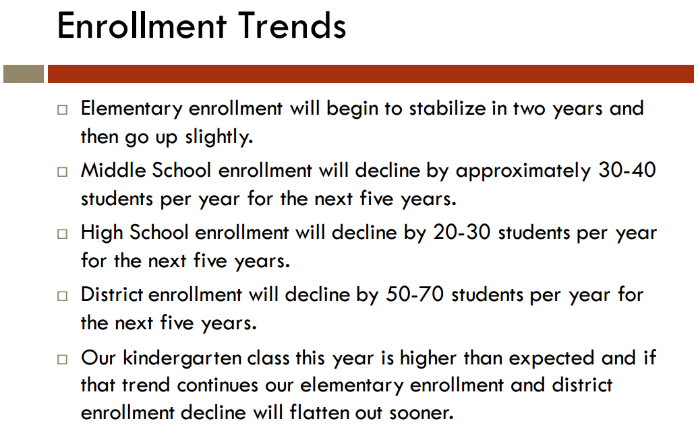 Enrollment is already stabilizing. Although district enrollment will decline by about 1% per year for the next 5 years, elementary school enrollment is already poised to rise. The district anticipated around 280 new elementary school students for next year, but 321 kids have already signed up, and it's possible that we might see 350 new students enter kindergarten.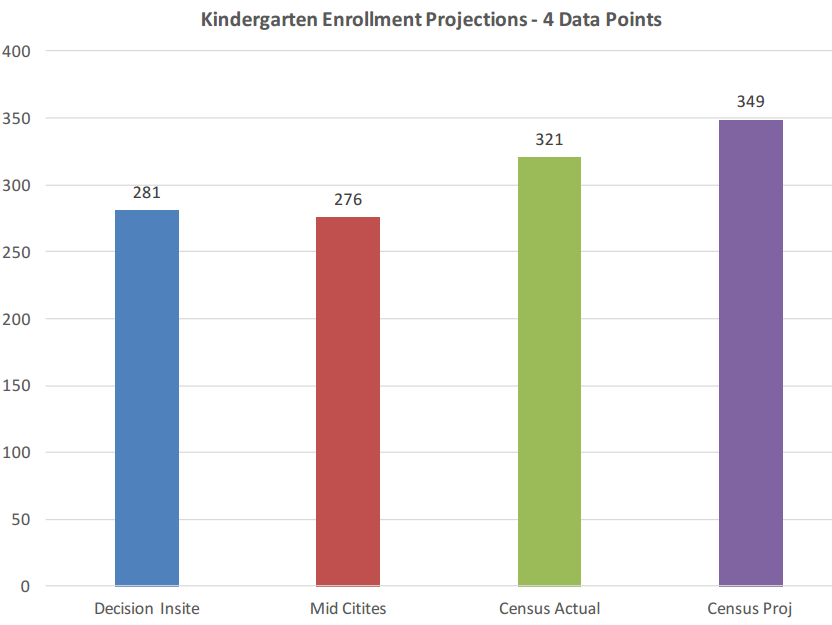 Class sizes are getting rather high in some of the elementary schools.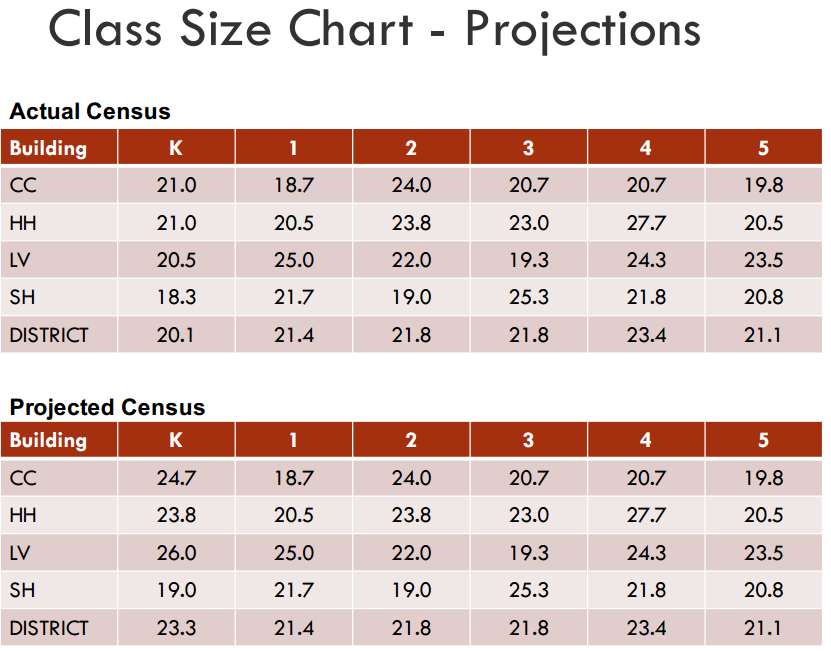 Or, more significantly,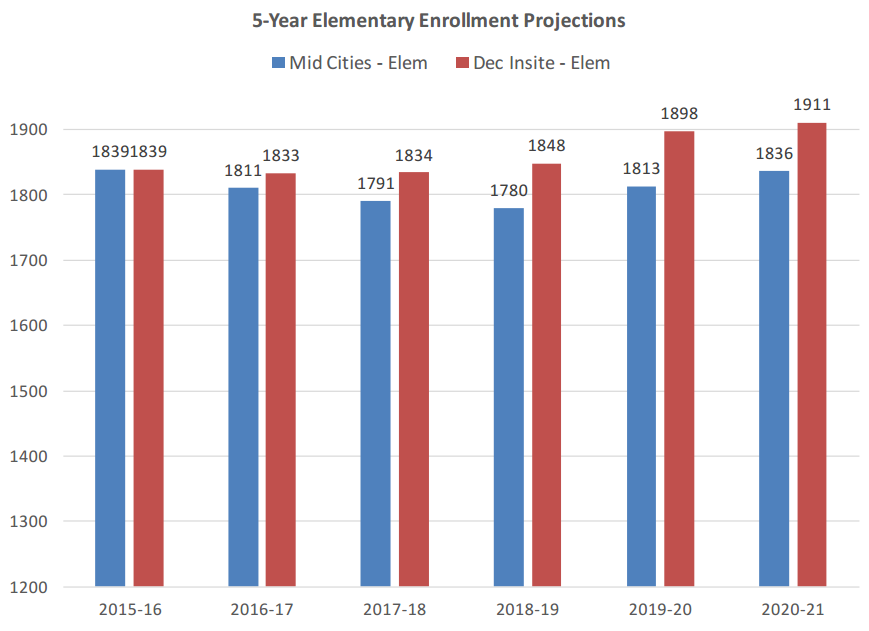 Just a few short years ago, the district projected 1,800 students enrolled in the elementary schools for 2018-19 – that has already been revised upwards to 1,848. Comparing that to actual 2013 enrollment, the revised 2020-2021 projection would be a net loss of zero students. As for the remaining schools, here are the revised projections: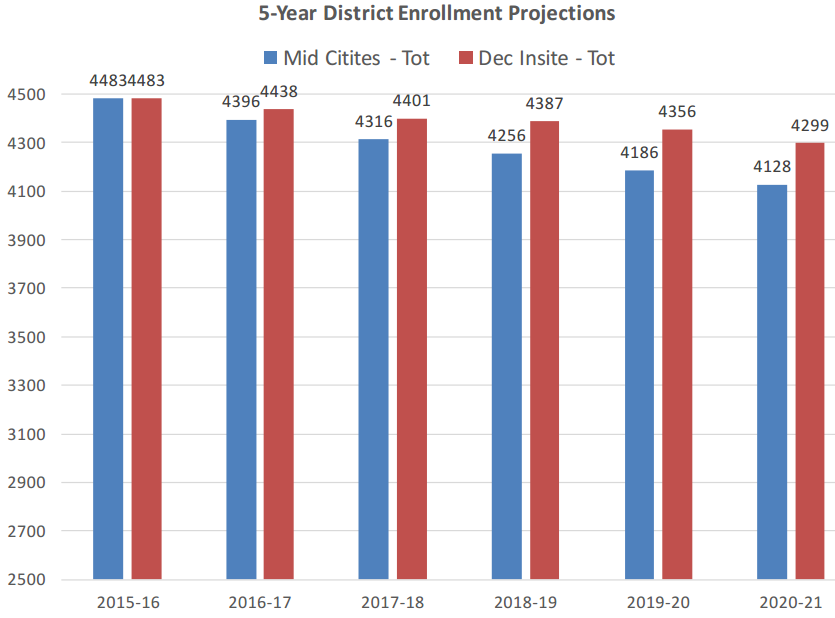 When you see people advocating against the school budget projecting – or trumpeting – enrollment decreases, double-check their work. Enrollment projections comparing 2010 enrollment to 2021 show that the number of kids will be as follows:
Elementary schools will go from 2,141 to 1,911;
Middle School will go from 1,211 to 979;
High School will go from 1,667 to 1,409
Here is the most recent high school projection: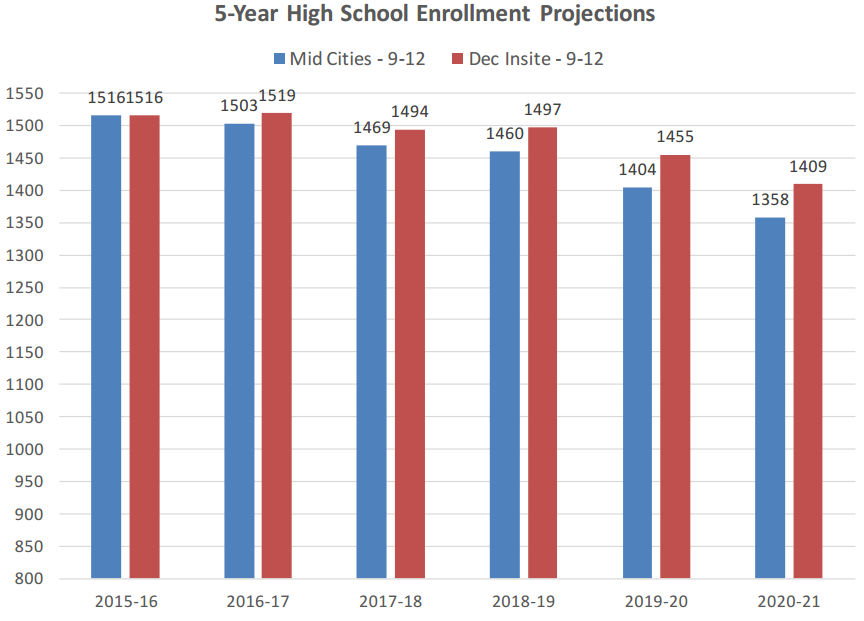 Actual HS enrollment in 2010 was 1,667. It is anticipated to drop to about 1,409 by 2021. It is likely to be revised each year, if elementary enrollment trends continue. As for the middle school,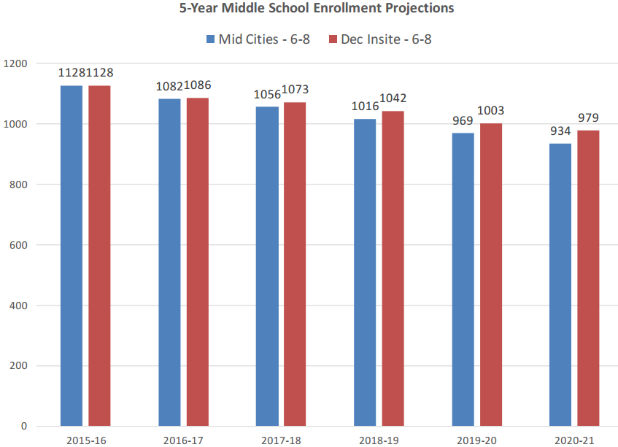 Actual enrollment in grades 6-8 in 2010 was 1,211 students. Here, it is projected by 2021 to be 979 students As for overall district enrollment, the actual number in 2010 was 5,019. The revised projection for 2020-2021 is 4,299. That is a drop of 720 students over the course of 11 years; about 65 students per year. But if elementary school enrollment trends continue to be wildly in excess of the projections, that districtwide decrease will be much smaller come 2021.
So, why do taxes go up if enrollment is projected to go down?
The reality is that enrollment declines are stabilizing sooner than expected.
The reality is that we lost 50 teachers since 2010 already.
The reality is that there are fewer elective choices for students.
The reality is that enrollment figures aren't nearly as dire as some would have you believe.
The reality is that teachers and students have been forced to do more with less.
The reality is that the current budget takes an influx of state cash and allocates it justly and equitably;
The reality is that class sizes are too big for elementary students especially;
The reality is that, while we received "more in state funds than ever before", the district has not been made whole. The state still owes us $70 million, which local taxpayers have had to make up to properly and adequately fund our district and avoid educational bankruptcy.
The reality is that the decrease in gasoline and natural gas prices has put more money in people's pockets and acted as a de facto tax cut that far exceeds any increase in school taxes.
The reality is that the Gap Elimination Adjustment was ended, not "restored", and there are still $20 million that the GEA has taken from the district that have not yet been restored, and we have not been made whole.
The reality is that a 3.11% tax cap is positive – it's because of town growth and growth is good. The tax levy (not tax rate) is increasing by 2.76%, which is less than the tax cap, and this is the third consecutive below-cap levy increase.
The reality is that local taxes have had to make up the $70 million in state aid that would have been due and owing had it not been for the Gap Elimination Adjustment.
The reality is this: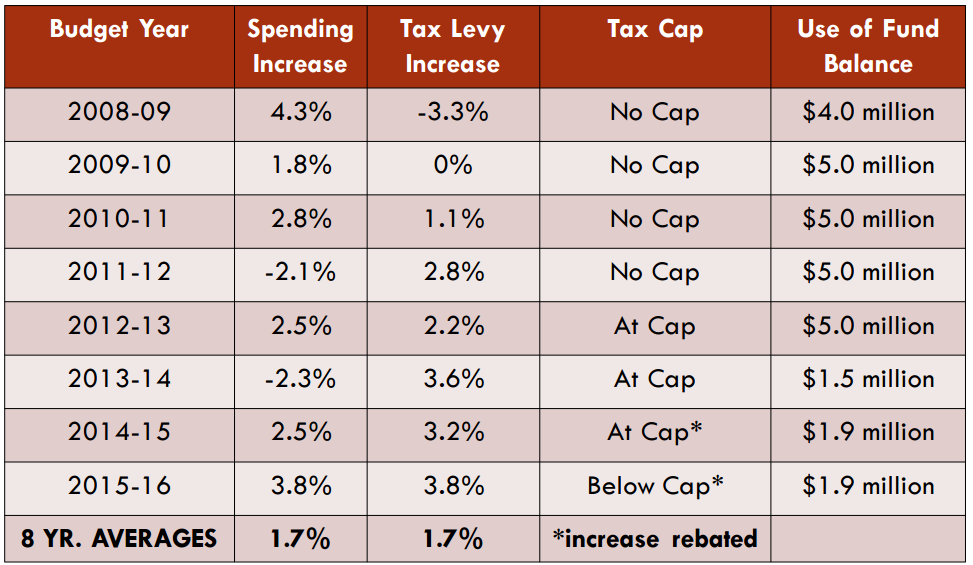 and this: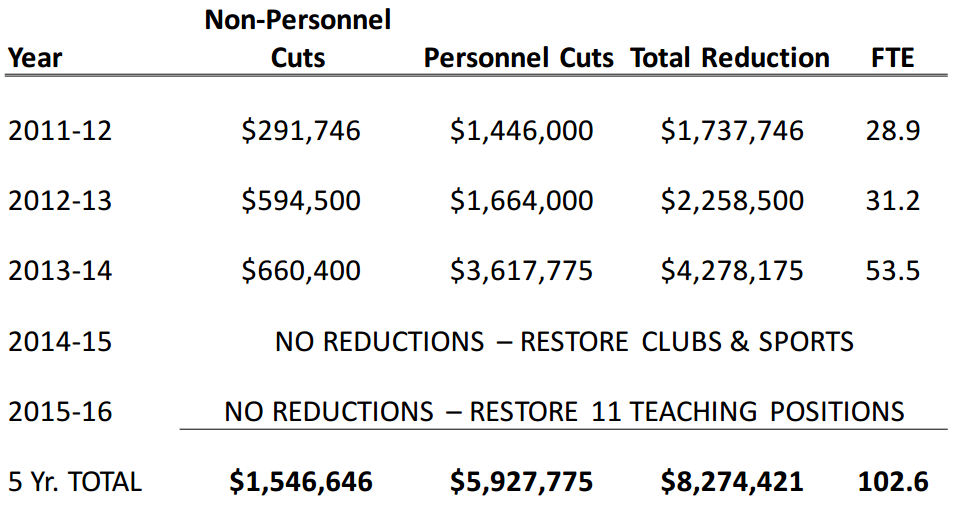 and this: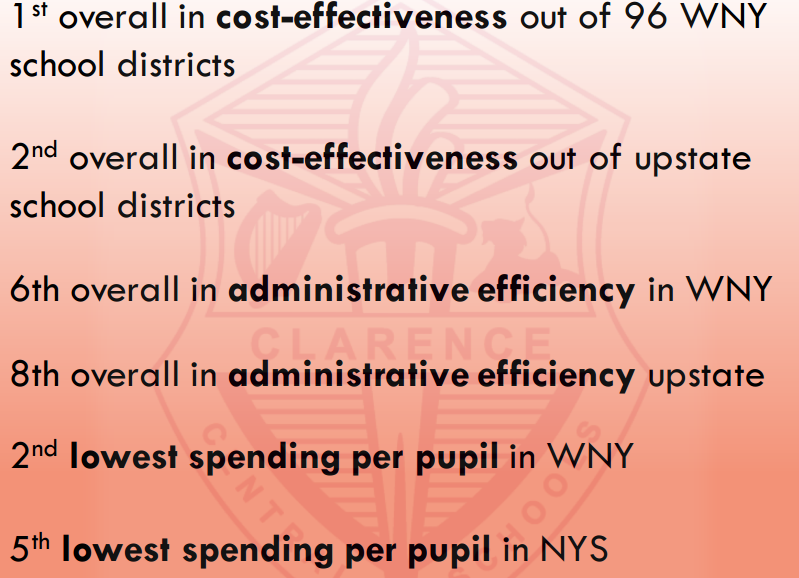 VOTE YES ON MAY 17th. 
POLLS ARE OPEN FROM 7am – 9pm at the HS Gymnasium, off Gunnville Rd. 
VOTE FOR JAMES BOGLIOLI AND JOHN FISGUS FOR SCHOOL BOARD